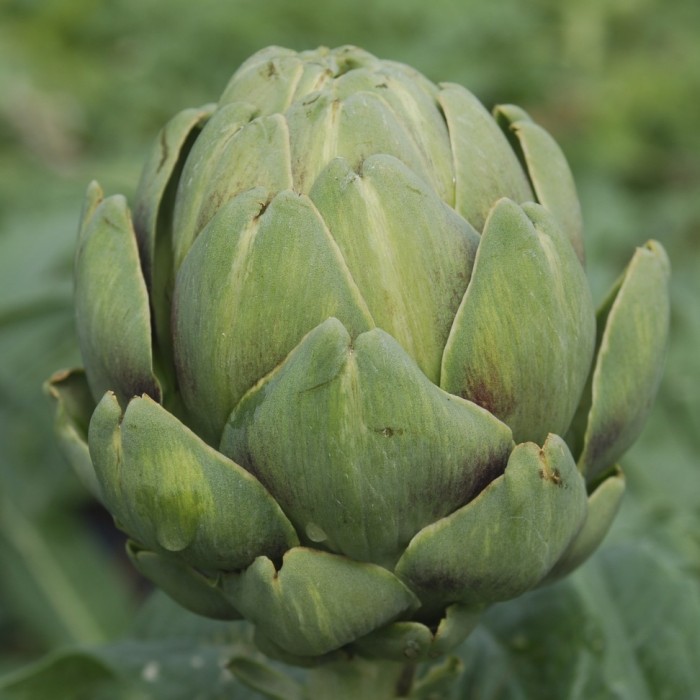 Tags: Heirloom Open Pollinated
Growing Practices: No Pesticides No Herbicides No Fungicides No Synthetic Fertilizers
Latin Name: Cynaria scolymus
Days to Maturity: 85
Description:
The Green Globe Artichoke is the king of the artichokes – it's the one you're most likely to find in your local supermarket or at your favorite restaurant. In addition to its delicious taste, the foliage of the Green Globe Artichoke is very attractive, and provides a welcomed aesthetic addition to the garden even after harvest.

Green Globe Artichokes produce tender, nutty and flavorful green artichokes. Just imagine the flavor of dipping your own artichokes in butter and savoring each moment not only for the flavor, but for the fact that you grew them!

Artichoke adds as much flair to the garden as to the table—the plant itself is beautiful! Green globe is an heirloom variety with big, bold leaves. As plants grow they develop a big stem in the center that is topped with large, bright green, globe-shaped "choke," or fleshy flower buds, which are the part you eat.

Makes a great dried flower!

~~~~~~~~~~~~~~~~~~~~~~~~~~~~~~~~~~~~~~~~~~~~~~~~~~~~~~
Dirt Goddess Super Seeds are fortified with Mycorrhizae, Beneficial Bacteria & Trichoderma for Superior Growth & Vigor. Organically!

Mycorrhizae forms a symbiotic relationship with the roots of 95% of the worlds plants and it's believed that plants were able to evolve onto land due to this symbiosis.

Colonization by mycorrhizae can provide multiple functions: increased nutrient uptake, drought tolerance, resistance to pathogens, increased vigor and yield.

It has been shown that the presence of Mycorrhizae can increase a plant's absorption of certain nutrients which it cannot uptake on its own.

In most gardens and agricultural settings the mycorrhizae is destroyed by tilling, the overuse of chemical fertilizers, and fungicides. The mycorrhizae must be re-added to the soil in order to benefit the plant.

Mycorrhizae is naturally 100% organic.

~~~~~~~~~~~~~~~~~~~~~~~~~~~~~~~~~~~~~~~~~~~~~~~~~~
FREE SHIPPING with purchase of $49 or more!

*Please take note about bulk seed orders: Seed availability can be very volatile due to crop failures, weather conditions and other factors. Therefore, not every seed is constantly available in bulk sizes. Most bulk orders are shipped within 3-7 business days while some seeds can take up to 14 days to ship. If you are in a rush to get your bulk seeds you may want to contact us to verify availability. Individual seed packets are always available.


Story of this Seed:
Thanks and Happy Growing!
Growing Tips:
Artichokes love a mild climate and long growing season, but will grow almost anywhere the growing season lasts at least 4 months. Plants can live for several years in zones 8 to 9. In colder areas they are killed by freezes. Green globe is a perennial in zones 7-10 and planted as an annual elsewhere. This artichoke is known for being one of the fastest producers of artichokes grown from seed.

Plant in early spring when the danger of frost is past. Artichoke plants are heavy feeders and need soil with plenty of compost. Fertilize during the growing season. Overwinter plants by cutting stalks back to base and covering with an airy mulch such as straw or pine needles.

Harvest buds in late summer when they are tight, firm, and evenly green, picking the top bud first, followed by the smaller ones that form down the sides of the plant (lateral buds). They are loaded with fiber, vitamins C and K, and antioxidants.

Plant spacing: 4 feet in-ground or 1 plant per container. Plants per person: 2 to 4.
Questions 1 Total
Ask a Question About Organic Green Globe Artichoke Seeds **Mycorrhizae Fortified/Bulk Available**
Answer this question

will they grow in SW FL?

Answers 1

I doubt it. They need more cool days than SW FL has.
Policies
Shipping Policies
US Seed orders over $49 ship for free! Under $49 is a flat rate of $4. Garlic orders of 1 lb are a flat rate of $6. Over 1 lb is determined by weight and distance.
Return & Refund Policy
Our seeds have an average 90-95% germination rate within the first 2 years, with a 10% chance of success in year 3. If you find that your seeds don't live up to this, please let me know and I will send you a fresh packet. **Please note that bulk seed orders cannot be cancelled or returned unless the seeds are defective** Thank you.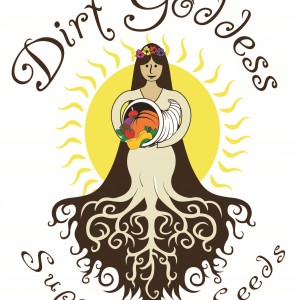 Kristen Brown
Oak Ridge, NJ, United States (Zone 6)
Established in 2012
1.00 acres in production
Other Listings from Dirt Goddess Super Seeds & Garlic Farm: