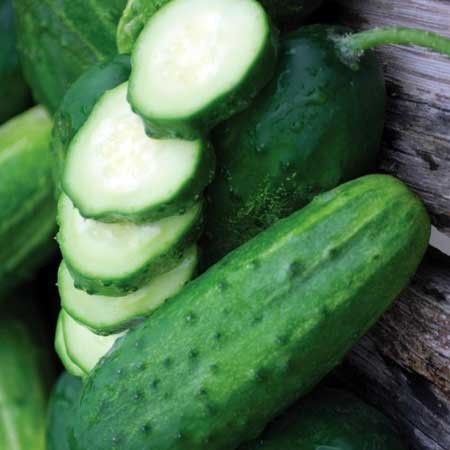 Tags: Heirloom Open Pollinated
Growing Practices: No Pesticides No Herbicides No Fungicides No Synthetic Fertilizers
Latin Name: Cucumis sativus
Days to Maturity: 52
Description:
Old heirloom dates back to 1880, excellent for pickles

An old heirloom dating back to 1880. Vigorous vines give large yields of smooth green fruit. Smooth, bright-green, 3 inch fruits have black spines. Very high yields. Bears continually if kept picked. It is excellent for pickles, very crisp and good quality. A very popular variety at the turn of the century.

A favorite in cuisine worldwide, cucumbers possess health benefits too numerous to mention. Incorporate cucumbers in your diet to aid with weight loss, as they are exceptionally low in calories (only about 8 calories in 1/2 cup), aid digestion, and rid toxins from the body. Among the more unusual qualities of the humble cuke is its ability to ease skin irritations. Use a piece of cucumber skin to soothe burns.
~~~~~~~~~~~~~~~~~~~~~~~~~~~~~~~~~~~~~~~~~~~~~~~~~~~~~~
Dirt Goddess Super Seeds are fortified with Mycorrhizae, Beneficial Bacteria & Trichoderma for Superior Growth & Vigor. Organically!

Mycorrhizae forms a symbiotic relationship with the roots of 95% of the worlds plants and it's believed that plants were able to evolve onto land due to this symbiosis.

Colonization by mycorrhizae can provide multiple functions: increased nutrient uptake, drought tolerance, resistance to pathogens, increased vigor and yield.

It has been shown that the presence of Mycorrhizae can increase a plant's absorption of certain nutrients which it cannot uptake on its own.

In most gardens and agricultural settings the mycorrhizae is destroyed by tilling, the overuse of chemical fertilizers, and fungicides. The mycorrhizae must be re-added to the soil in order to benefit the plant.

Mycorrhizae is naturally 100% organic.

~~~~~~~~~~~~~~~~~~~~~~~~~~~~~~~~~~~~~~~~~~~~~~~~~~
FREE SHIPPING with purchase of $49 or more!

*Please take note about bulk seed orders: Seed availability can be very volatile due to crop failures, weather conditions and other factors. Therefore, not every seed is constantly available in bulk sizes. Most bulk orders are shipped within 3-7 business days while some seeds can take up to 14 days to ship. If you are in a rush to get your bulk seeds you may want to contact us to verify availability. Individual seed packets are always available.


Story of this Seed:
Thanks and Happy Growing!
Growing Tips:
CULTURE: For the best yields, it is important to provide ideal growing conditions for cucumbers. If the weather is not warm and dry, vines grow slow and plants tend to fall prey to disease. Wait to direct sow or transplant until soil warms. For best germination, keep the soil lightly moist but not too wet.

TO DIRECT SOW: We recommend raised beds. They improve drainage, warm up earlier, and increase the root zone depth. Space the groups about 3-4 feet apart in all directions. Under each group of seeds, work 1/2-1 cup of our complete fertilizer into the soil. After the seed is up and growing, thin plants.

FOR TRANSPLANTS: Not recommended, but in short-season climates, starting seed indoors may be necessary. Cucumber transplants don't like their roots disturbed, so start them in individual 3 1/2 inch peat pots. Fill pots with a sterile seedling mix. After they've emerged, place the seedlings in a sunny, warm spot. They should only be about 3 weeks old when transplanted in the garden. Harden off about a week in a cold frame if you have one. The entire peat pot can be planted making sure the entire rim is below the soil line. If any part is above ground, it will wick moisture away from the roots and weaken plants. Space and fertilize as described above for direct sowing.

MULCHES & PLANT COVERS: These materials have proven to help plants grow faster, flower sooner, and yield more fruit. We recommend green or silver mulch, plus a floating row cover of Grow Guard 20 or Reemay early in the season to achieve these results.

DISEASE: Where disease is a known problem, choose resistant varieties. Remove plant refuse and control insect pests. Consult your local county extension agent for disease specifics.

INSECTS/PESTS: Control striped and spotted cucumber beetles with Pyrethrin; apply regularly as long as beetles are evident. They primarily infect plants with bacterial wilt disease, which is devastating to plants. Keep border areas of the garden mowed.

HARVEST: Keep your cucumbers picked, and they'll keep producing. When stored at 40°F and 95% relative humidity, they may last up to 3 weeks. Chickens like big cucumbers.

SEED SPECS: Minimum germination standard: 80%. Days to maturity are calculated from the date of direct seeding. Usual seed life: 3 years.


Questions 0 Total
Ask a Question About Organic Boston Pickling Cucumber Seeds **Mycorrhizae Fortified/Bulk Available**
Policies
Shipping Policies
US Seed orders over $49 ship for free! Under $49 is a flat rate of $4. Garlic orders of 1 lb are a flat rate of $6. Over 1 lb is determined by weight and distance.
Return & Refund Policy
Our seeds have an average 90-95% germination rate within the first 2 years, with a 10% chance of success in year 3. If you find that your seeds don't live up to this, please let me know and I will send you a fresh packet. **Please note that bulk seed orders cannot be cancelled or returned unless the seeds are defective** Thank you.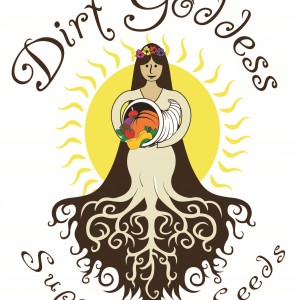 Kristen Brown
Oak Ridge, NJ, United States (Zone 6)
Established in 2012
1.00 acres in production
Other Listings from Dirt Goddess Super Seeds & Garlic Farm: