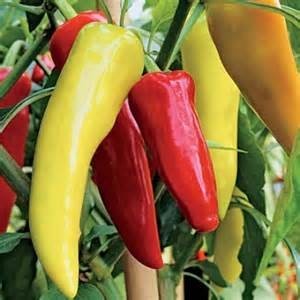 Tags: Heirloom Open Pollinated
Growing Practices: No Pesticides No Herbicides No Fungicides No Synthetic Fertilizers
Latin Name: Capsicum annuum "Sweet Banana"
Days to Maturity: 69-80
Description:
An extremely popular sweet & mild heirloom pepper, the "Sweet Banana" is the antidote to the hot and spicy pepper. "Sweet Banana" is versatile and flavorful and can be used successfully in a wide range of dishes. This one gets better with age!

~~~~~~~~~~~~~~~~~~~~~~~~~~~~~~~~~~~~~~~~~~~~~~~~~~~~~~~~~~
Dirt Goddess Super Seeds are fortified with Mycorrhizae, Beneficial Bacteria & Trichoderma for Superior Growth & Vigor. Organically!

Mycorrhizae forms a symbiotic relationship with the roots of 95% of the worlds plants and it's believed that plants were able to evolve onto land due to this symbiosis.

Colonization by mycorrhizae can provide multiple functions: increased nutrient uptake, drought tolerance, resistance to pathogens, increased vigor and yield.

It has been shown that the presence of Mycorrhizae can increase a plant's absorption of certain nutrients which it cannot uptake on its own.

In most gardens and agricultural settings, the mycorrhizae is destroyed by tilling, the overuse of chemical fertilizers, and fungicides. The mycorrhizae must be re-added to the soil in order to benefit the plant.

Mycorrhizae is naturally 100% organic.

Take a look at www.DirtGoddessSeeds for videos and lots more info on this amazing fungus!
~~~~~~~~~~~~~~~~~~~~~~~~~~~~~~~~~~~~~~~~~~~~~~~~~~~~~~~
FREE SHIPPING with purchase of $49 or more!

*Please take note about bulk seed orders: Seed availability can be very volatile due to crop failures, weather conditions and other factors. Therefore, not every seed is constantly available in bulk sizes. Most bulk orders are shipped within 3-7 business days while some seeds can take up to 14 days to ship. If you are in a rush to get your bulk seeds you may want to contact us to verify availability. Individual seed packets are always available.

Story of this Seed:
Thanks and Happy Growing!
Growing Tips:
Peppers are a hardy, warm season crop that enjoys full sun and loamy, well draining soil with a neutral pH.

Peppers, hot or sweet, can be quite easy to grow, but a little patience is required. Most varieties will take at least 85 days from sprouting to harvest.

While they are pest tolerant, peppers can be susceptible to mildews so they will prefer a warm and dry climate. Keep in mind however, that while pepper plants grow well in warm summer temperatures, many varieties will wait until nights begin to reach cooler temperatures to produce the bulk of their harvest.

For best results, seeds should be started indoors approximately 8-10 weeks before last expected frost date. Temperatures must be at least 70 degrees for good germination rates.

When starting seeds, it is recommended to start three to a pot and thin the weakest seedling, leaving the remaining two to grow as one plant.

Approximately one week before transplanting outdoors, harden off seedlings and prepare your plot with fertilizer or organic material, making sure your soil temperatures are at least 65 degrees consistently, or else seedlings will not survive the transplant.

Seedling pairs should be placed about 18 to 24 inches apart.

Tip: put a few match heads and a teaspoon of fertilizer in the hole before planting, peppers appreciate the sulfur.

Peppers will appreciate a stake or cage for stability, especially when they begin to fruit.

They need a well drained bed, but consistent moisture is also important -- plastic sheeting or mulch can be good ideas for retaining moisture, but a drip irrigation system can be a good approach as well.
Questions 0 Total
Ask a Question About Sweet Banana Pepper ~Mycorrhizae Fortified/Bulk Available~
Policies
Shipping Policies
US Seed orders over $49 ship for free! Under $49 is a flat rate of $4. Garlic orders of 1 lb are a flat rate of $6. Over 1 lb is determined by weight and distance.
Return & Refund Policy
Our seeds have an average 90-95% germination rate within the first 2 years, with a 10% chance of success in year 3. If you find that your seeds don't live up to this, please let me know and I will send you a fresh packet. **Please note that bulk seed orders cannot be cancelled or returned unless the seeds are defective** Thank you.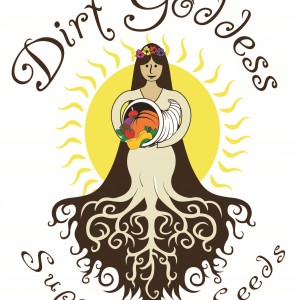 Kristen Brown
Oak Ridge, NJ, United States (Zone 6)
Established in 2012
1.00 acres in production
Other Listings from Dirt Goddess Super Seeds & Garlic Farm: