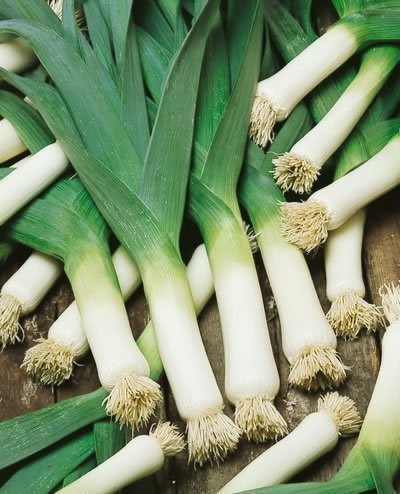 Tags: Heirloom Open Pollinated
Growing Practices: No Pesticides No Herbicides No Fungicides No Synthetic Fertilizers
Latin Name: Allium ampeloprasum
Days to Maturity: 105
Description:
Originated around 1870. Also called "Giant Musselburh" or "Scotch Flag". Leeks date back to the time of the Ancient Egyptians. Their popularity has grown through many cultures since then.

Leeks create a tasty pearl-white bulb with huge green leaves. They have a delicate onion flavor that makes them a favorite in soups, stews and salads. Perfect for the home gardener and market grower. Mild, sweet, onion-like flavor. Very hardy, will overwinter in milder climates. The 7 to 9 inch stems blanch snowy white and are topped with blue-green leaves resemble giant scallions.
~~~~~~~~~~~~~~~~~~~~~~~~~~~~~~~~~~~~~~~~~~~~~~~~~
Dirt Goddess Super Seeds are fortified with Mycorrhizae, Beneficial Bacteria & Trichoderma for Superior Growth & Vigor. Organically!

Mycorrhizae forms a symbiotic relationship with the roots of 95% of the worlds plants and it's believed that plants were able to evolve onto land due to this symbiosis.

Colonization by mycorrhizae can provide multiple functions: increased nutrient uptake, drought tolerance, resistance to pathogens, increased vigor and yield.

It has been shown that the presence of Mycorrhizae can increase a plant's absorption of certain nutrients which it cannot uptake on its own.

In most gardens and agricultural settings, the mycorrhizae is destroyed by tilling, the overuse of chemical fertilizers, and fungicides. The mycorrhizae must be re-added to the soil in order to benefit the plant.

Mycorrhizae is naturally 100% organic.

Take a look at www.DirtGoddessSeeds for videos and lots more info on this amazing fungus!
~~~~~~~~~~~~~~~~~~~~~~~~~~~~~~~~~~~~~~~~~~~~~~~~~~~~~~~
FREE SHIPPING with purchase of $49 or more!

*Please take note about bulk seed orders: Seed availability can be very volatile due to crop failures, weather conditions and other factors. Therefore, not every seed is constantly available in bulk sizes. Most bulk orders are shipped within 3-7 business days while some seeds can take up to 14 days to ship. If you are in a rush to get your bulk seeds you may want to contact us to verify availability. Individual seed packets are always available.
Story of this Seed:
Thanks and Happy Growing!
Growing Tips:
CULTURE: Leeks are a cool-season biennial grown as an annual. They are well worth the effort because they are frost hardy and can supply the gardener with fresh onions all winter and well into spring. They thrive in well composted, well worked, and well drained soil. Leeks can be started as transplants or direct sown in the garden if you have optimum soil conditions. Transplants will yield larger plants by autumn.

FOR TRANSPLANTS: Begin 8-10 weeks before your last frost. Sow up to 100 seeds in a sterile seedling mix in a 4-6 inch pot. Cover the seeds. Place in a warm location and keep moist. For stockier plants, keep the tops trimmed to 3 inches. Transplant into the garden after the threat of frost has passed, and when the soil can be worked to a depth of 8-10 inches. Dig a trench 5 inches deep and wide. Each row should be 12-18 inches apart. Work in 1/4-1/2 cup of our complete fertilizer per 5 row feet. Place seedlings in the bottom of the trench about 4-5 inches apart. Leeks do best when planted close enough to touch each other as they grow. Blanch to increase the length of white stem by gradually filling in the trench as the leeks grow.

DIRECT SEEDING: After your last frost, direct sow seeds in rows 12-18 inches apart. Cover with vermiculite or sifted compost. Thin plants.

HARVEST: Dig anytime the leeks are 1/2 inch in diameter or larger. Can be used raw or cooked. Store at 33°F and 65% relative humidity.

INSECTS/PESTS: Seldom a problem.

DISEASE: Very resistant.

SEED SPECS: Minimum germination standard: 70%. Usual seed life: 1 year. Days to maturity are calculated from date of transplant.
Questions 0 Total
Ask a Question About Leek *American Flag* ~Mycorrhizae Fortified/Bulk Available~
Policies
Shipping Policies
US Seed orders over $49 ship for free! Under $49 is a flat rate of $4. Garlic orders of 1 lb are a flat rate of $6. Over 1 lb is determined by weight and distance.
Return & Refund Policy
Our seeds have an average 90-95% germination rate within the first 2 years, with a 10% chance of success in year 3. If you find that your seeds don't live up to this, please let me know and I will send you a fresh packet. **Please note that bulk seed orders cannot be cancelled or returned unless the seeds are defective** Thank you.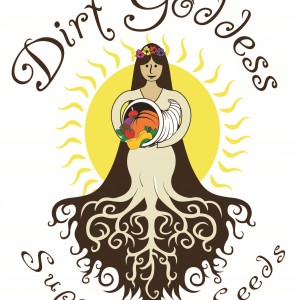 Kristen Brown
Oak Ridge, NJ, United States (Zone 6)
Established in 2012
1.00 acres in production
Other Listings from Dirt Goddess Super Seeds & Garlic Farm: