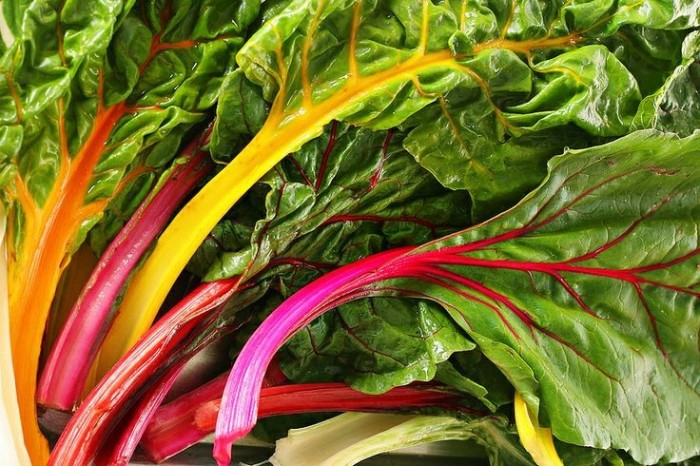 Tags: Heirloom Open Pollinated
Growing Practices: No Pesticides No Herbicides No Fungicides No Synthetic Fertilizers
Latin Name: Beta vulgaris, Cicla Group
Days to Maturity: 30 days baby, 60 full size
Description:
Rainbow chard was sold by Thompson and Moran Seed co. in the early 1970s, but disappeared in the U. S. by the early 1980s. It was later discovered growing in Australia and introduced back to the market.

Upright habit makes for clean production and easy harvesting. Upright • Easy to harvest.

This chard produces amazing colors in shades of red, purple, pink, orange, yellow and white. Color intensity is not as well defined early on; mostly pink, red and white at baby stage. Grow to full size for a dazzling display at market!

Delicious stir fried or as steamed greens. Good spinach substitute. Stalks can be eaten like celery.

Rainbow chard makes a great border for your flower garden.

Beta vulgaris, Cicla Group: Swiss chard is a vegetable that is in the same family as the common beet, however while the root of the beet is commonly eaten, it's the leaves of the Swiss chard that are consumed. Recent nutritional analysis has shown that Swiss chard is second only to spinach on the world's healthiest vegetable list. Packed with anthocyanins and fiber it's one of the most antioxidant rich foods as demonstrated in the vivid colors of the leaves.

~~~~~~~~~~~~~~~~~~~~~~~~~~~~~~~~~~~~~~~~~~~~~~~~~~~~~~~~~~
Dirt Goddess Super Seeds are fortified with Mycorrhizae, Beneficial Bacteria & Trichoderma for Superior Growth & Vigor. Organically!

Mycorrhizae forms a symbiotic relationship with the roots of 95% of the worlds plants and it's believed that plants were able to evolve onto land due to this symbiosis.

Colonization by mycorrhizae can provide multiple functions: increased nutrient uptake, drought tolerance, resistance to pathogens, increased vigor and yield.

It has been shown that the presence of Mycorrhizae can increase a plant's absorption of certain nutrients which it cannot uptake on its own.

In most gardens and agricultural settings the mycorrhizae is destroyed by tilling, the overuse of chemical fertilizers, and fungicides. The mycorrhizae must be re-added to the soil in order to benefit the plant.

Mycorrhizae is naturally 100% organic.
~~~~~~~~~~~~~~~~~~~~~~~~~~~~~~~~~~~~~~~~~~
FREE SHIPPING with purchase of $49 or more!

*Please take note about bulk seed orders: Seed availability can be very volatile due to crop failures, weather conditions and other factors. Therefore, not every seed is constantly available in bulk sizes. Most bulk orders are shipped within 3-7 business days while some seeds can take up to 14 days to ship. If you are in a rush to get your bulk seeds you may want to contact us to verify availability. Individual seed packets are always available.


Story of this Seed:
Thanks and Happy Growing!
Growing Tips:
CULTURE: Sow April through early August in well-dug, fertile soil. Space rows 18-24 inches apart. Thin when plants reach a height of 3 inches. When plants are about 6 inches tall, an application of 1 cup of our complete fertilizer or 1/2 cup of blood meal per 5 row feet fosters leaf growth. Starting indoors is not recommended.

INSECTS AND DISEASE: Flea beetles sometime attack Swiss chard. Cover the beds with a floating row cover like Reemay or Grow Guard 20, or spray with Pyrethrin.

HARVEST: The crop is ready to harvest about 60 days after planting. The outer leaves can be harvested as soon as fully developed, taking care not to damage the growing point. Fresh leaves should be stored at 33°F and 90-95% relative humidity.

SEED SPECS: Minimum germination standard: 75%. Usual seed life: 2 years.
Questions 3 Total
Ask a Question About Organic Rainbow Swiss Chard ~Mycorrhizae Fortified/Bulk Available~
Policies
Shipping Policies
US Seed orders over $49 ship for free! Under $49 is a flat rate of $4. Garlic orders of 1 lb are a flat rate of $6. Over 1 lb is determined by weight and distance.
Return & Refund Policy
Our seeds have an average 90-95% germination rate within the first 2 years, with a 10% chance of success in year 3. If you find that your seeds don't live up to this, please let me know and I will send you a fresh packet. **Please note that bulk seed orders cannot be cancelled or returned unless the seeds are defective** Thank you.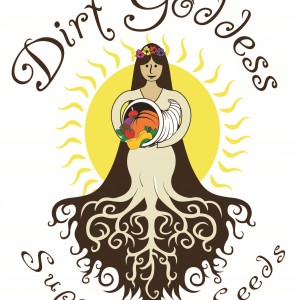 Kristen Brown
Oak Ridge, NJ, United States (Zone 6)
Established in 2012
1.00 acres in production
Other Listings from Dirt Goddess Super Seeds & Garlic Farm: