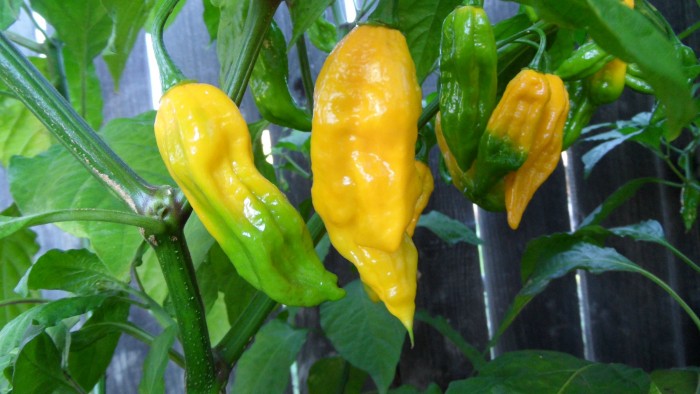 Tags: Heirloom
Growing Practices: No Pesticides No Herbicides No Fungicides
Latin Name: Capsicum chinense
Days to Maturity: 90-120
Description:
Yellow Bhhut Jolokia-(Capsicum chinense)-The Yellow Bhut Jolokia is a natural variant of the Red Bhut Jolokia. Now some honesty. There are seed sellers that are running around saying this is as hot as a Bhut Jolokia. I had these tested and heat levels came in between 250,000 and 400,000 Scoville units. Now you might be saying wow thats a whole lot lower than the Bhut Jolokia. Not really. Very few Bhut pods test over 1,000,000. Most Bhut Jolokia average between 300,000 and 800,000 Scoville units. One pepper did top over 1,000,000 for new record but that is not the norm. Still former Record Holder Red Savina never duplicated it's over 500,000 record either. Now this pepper is hotter than Fatalii or Devil's Tongue Yellow. And it does have a Bhut Jolokia taste but better than the Red version in my opinion. It also produces better. A great tasting chile with great heat. The Yellow Bhut Jolokia Chile plants grow up to 4 feet tall.
Growing Tips:
Comes with Order.
Buy
Questions 0 Total
Ask a Question About Yellow Bhut Jolokia
Policies
Shipping Policies
All shipping is done within Two to Three Business Days. Shipping is done by USPS First Class Mail.
Return & Refund Policy
We stand behind our seeds and plants. We give a one page grow sheet with all orders and will even get on the phone to help you grow. If you follow advice we stand by everything. No reasonable requests for replacements will be turned away! Plants are guaranteed 7 Days after receiving. Under certain circumstances we will replace beyond this.
Other Policies
Also if your order gets lost or damaged by our wonderful Postal System we will take care of you!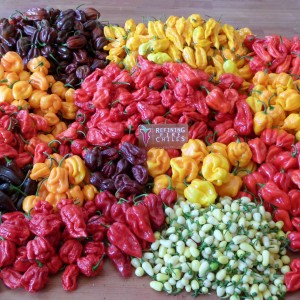 James Duffy
Lindale, GA, United States (Zone 10a)
Established in 2004
1.00 acres in production
Other Listings from Refining Fire Chiles: