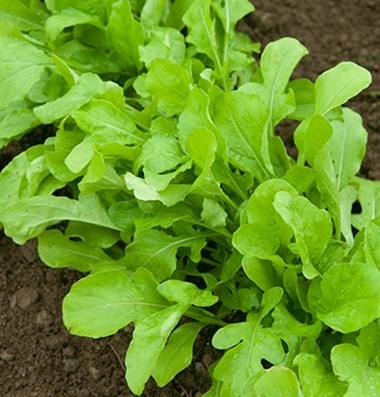 Tags: Heirloom Open Pollinated
Growing Practices: No Pesticides No Herbicides No Fungicides No Synthetic Fertilizers
Latin Name: Eruca sativa
Days to Maturity: 21-40
Description:
The standard arugula.

A leafy green with a slightly pungent, peppery flavor. Long, dark, lobed leaves are suitable for salad mix or bunching. White flowers with dark pink veins make attractive spicy additions to salad mixes. Young leaves are used fresh and mature greens can be cooked. Dislikes heat so plan a Spring or Fall crop.

Can be sown from early spring through late fall. Frost-hardy and easy to grow. Long, dark green, broad arrow-shaped leaves form a loose, open bunch. Grows 12-18 inches tall before bolting.

Harvest the edible flowers as they appear. Sprinkle them over salads or add to vegetable stir fries.
Arugula will reseed vigorously.

~~~~~~~~~~~~~~~~~~~~~~~~~~~~~~~~~~~~~~~~~~~~~~~~~~~~~~~~~~
Dirt Goddess Super Seeds are fortified with Mycorrhizae, Beneficial Bacteria & Trichoderma for Superior Growth & Vigor. Organically!

Mycorrhizae forms a symbiotic relationship with the roots of 95% of the worlds plants and it's believed that plants were able to evolve onto land due to this symbiosis.

Colonization by mycorrhizae can provide multiple functions: increased nutrient uptake, drought tolerance, resistance to pathogens, increased vigor and yield.

It has been shown that the presence of Mycorrhizae can increase a plant's absorption of certain nutrients which it cannot uptake on its own.

In most gardens and agricultural settings the mycorrhizae is destroyed by tilling, the overuse of chemical fertilizers, and fungicides. The mycorrhizae must be re-added to the soil in order to benefit the plant.

Mycorrhizae is naturally 100% organic.
~~~~~~~~~~~~~~~~~~~~~~~~~~~~~~~~~~~~~~~~~~
FREE SHIPPING with purchase of $49 or more!

*Please take note about bulk seed orders: Seed availability can be very volatile due to crop failures, weather conditions and other factors. Therefore, not every seed is constantly available in bulk sizes. Most bulk orders are shipped within 3-7 business days while some seeds can take up to 14 days to ship. If you are in a rush to get your bulk seeds you may want to contact us to verify availability. Individual seed packets are always available.
Story of this Seed:
Thanks and Happy Growing!
Growing Tips:
CULTURE: Gourmet greens are, for the most part, cool-season crops that perform best when planted in early spring or fall. Most will tolerate light to moderate frosts with minimal cover. Greens yield the most when planted in rich, well-dug soil in a sunny location. Rapid continuous growth is very important for the best quality. Plants are most vigorous and the flavors are milder and richer when daytime air temperatures are between 60-70°F. For mid-summer greens, purslane, endive, and New Zealand Spinach perform quite well. Most European greens are best direct sown into a well-worked seedbed. Apply 1 cup of our complete fertilizer per 10 row feet for peak production. Unless otherwise noted, plant seeds 1-2 inches apart in rows 16-18 inches apart. Most greens can germinate when the soil temperature is as low as 40°. Keep the soil uniformly moist for best results. Cover all seeds with Reemay or Grow Guard 20 to help deter birds and improve germination. Sow greens every couple of weeks to ensure a continuous supply of young plants. Thin after their second set of leaves have emerged. For transplants, see the Lettuce culture.

INSECTS: Aphids can be a problem and can be controlled with a strong spray of water, or applications of Pyrethrin or Azatrol.

DISEASES: Good rotation practices and garden sanitation are essential for disease control. Proper plant spacing that allows adequate air circulation helps prevent molds.

HARVEST: For the best flavor, harvest all greens frequently and when young. As with all greens, a rinse in cold water will help preserve the flavor and texture. To avoid bitterness, do not eat over-mature plants or those that mature in the heat of summer.
Questions 1 Total
Ask a Question About Roquette Arugula *Heirloom* ~Mycorrhizae Fortified/Bulk Available~
Answer this question

Can you tell me more about the mycorrhizal inoculant--who produces it; what research has been published showing it's benefits in typical garden conditions, etc?
Policies
Shipping Policies
US Seed orders over $49 ship for free! Under $49 is a flat rate of $4. Garlic orders of 1 lb are a flat rate of $6. Over 1 lb is determined by weight and distance.
Return & Refund Policy
Our seeds have an average 90-95% germination rate within the first 2 years, with a 10% chance of success in year 3. If you find that your seeds don't live up to this, please let me know and I will send you a fresh packet. **Please note that bulk seed orders cannot be cancelled or returned unless the seeds are defective** Thank you.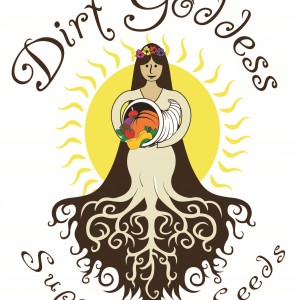 Kristen Brown
Oak Ridge, NJ, United States (Zone 6)
Established in 2012
1.00 acres in production
Other Listings from Dirt Goddess Super Seeds & Garlic Farm: