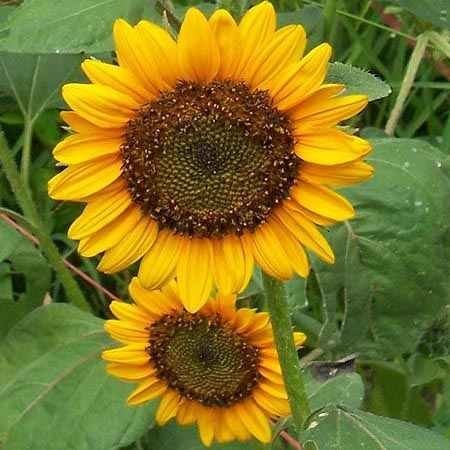 Tags: Heirloom Open Pollinated
Growing Practices: No Pesticides No Herbicides No Fungicides No Synthetic Fertilizers
Latin Name: Helianthus Annuus
Days to Maturity: 75-80
Description:
Sunflower Sunspot Dwarf (Helianthus Annuus) - One of the easiest flower seeds to grow, Sunflower seeds, makes a huge statement in the summer landscape. Dwarf Helianthus are great for containers and flower beds, and they only reach 12 - 24 inches tall with an average sized single 10 inch head. What a cheerful plant for any sunny location and so easy to establish from dwarf Sunflower seeds! Upland game birds and pheasants like Sunflower Sunspot for food and cover & Kids love 'em!

Some archaeologists believe that Native Americans may have cultivated sunflowers as early as 3000 B.C. Uses: You can leave any remaining seed-heads in the garden for fall and winter visitors. Or you can cut and dry the seed-heads indoors. Throughout the winter months, tie dried heads to trees or to your deck to create feeding stations.
~~~~~~~~~~~~~~~~~~~~~~~~~~~~~~~~~~~~~~~~~~~~~~~~~~

Mycorrhizae forms a symbiotic relationship with the roots of 95% of the worlds plants and it's believed that plants were able to evolve onto land due to this symbiosis.

Colonization by mycorrhizae can provide multiple functions: increased nutrient uptake, drought tolerance, resistance to pathogens, increased vigor and yield.

It has been shown that the presence of Mycorrhizae can increase a plant's absorption of certain nutrients which it cannot uptake on its own.

In most gardens and agricultural settings, the mycorrhizae is destroyed by tilling, the overuse of chemical fertilizers, and fungicides. The mycorrhizae must be re-added to the soil in order to benefit the plant.

Mycorrhizae is naturally 100% organic.

Take a look at www.DirtGoddessSeeds for videos and lots more info on this amazing fungus!
Story of this Seed:
Dirt Goddess Super Seeds are fortified with Mycorrhizae, Beneficial Bacteria & Trichoderma for Superior Growth & Vigor. Organically!
Growing Tips:
Grow Sunflower Sunspot plants in a sunny location in somewhat fertile well-drained soil. Keep soil weed free and moderately moist while plants are young. Once established, Sunflower plants are somewhat drought and heat tolerant. They will flower mid-summer through fall. Birds are attracted to the seeds.

Zones: 1 through 10
Height: Up to 2-3 ft.
Flower Color: Yellow with Brown Ctr.
Plant Type: Annual
Light Requirement: Sun
Bloom Time: Mid - Late Season
Questions 0 Total
Ask a Question About Sunspot Dwarf Sunflower ~Mycorrhizae Fortified/Bulk Available~
Policies
Shipping Policies
US Seed orders over $49 ship for free! Under $49 is a flat rate of $4. Garlic orders of 1 lb are a flat rate of $6. Over 1 lb is determined by weight and distance.
Return & Refund Policy
Our seeds have an average 90-95% germination rate within the first 2 years, with a 10% chance of success in year 3. If you find that your seeds don't live up to this, please let me know and I will send you a fresh packet. **Please note that bulk seed orders cannot be cancelled or returned unless the seeds are defective** Thank you.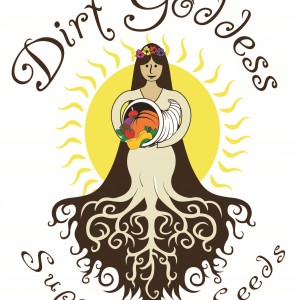 Kristen Brown
Oak Ridge, NJ, United States (Zone 6)
Established in 2012
1.00 acres in production
Other Listings from Dirt Goddess Super Seeds & Garlic Farm: