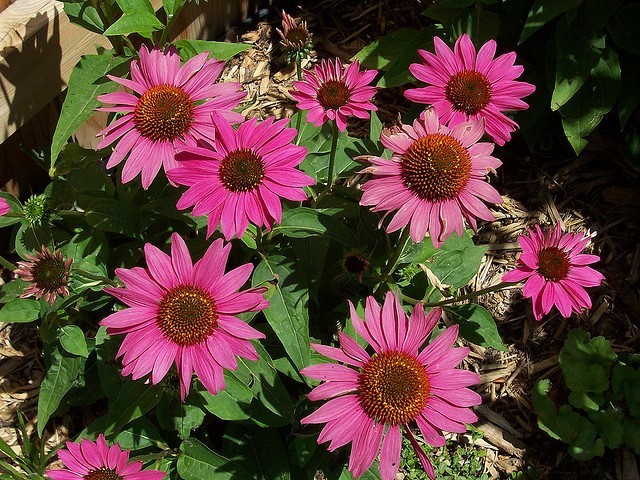 Tags: Heirloom Open Pollinated
Growing Practices: No Pesticides No Herbicides No Fungicides No Synthetic Fertilizers
Latin Name: Echinacea purpurpea
Days to Maturity: 110
Description:
Beautiful 3-4" flowers with pink-orange center cones and purple-pink rays.

Purple coneflower is so easy to grow and attractive and draws so many birds and butterflies that you simply must grow it, if you have the room. Valued for its large sturdy daisylike flowers with dropping petals and will spread easily in good soil and full sun. It is bothered by few pests or diseases. It's a great cut flower -- bring in armloads of it to brighten the house. And birds and butterflies love it. Allow it to spread so that you have at least a small stand of it. Let the flowers go to seed and the goldfinches will love you, coming to feast on the seeds daily. Butterflies and helpful bees also love purple coneflower.

Medicinal compounds are most concentrated in young flower buds and fibrous roots.

The European Medicines Agency (EMEA) assessed the body of evidence and approved the use of expressed juice and dried expressed juice from fresh flowering aerial parts of Echinacea purpurea for the short-term prevention and treatment of the common cold.

According to their recommendations: It should not be used for more than 10 days. The use in children below 1 year of age is contraindicated, because of theoretically possible undesirable effect on immature immune system. The use in children between 1 and 12 years of age is not recommended, because efficacy has not been sufficiently documented although specific risks are not documented. In the absence of sufficient data, the use in pregnancy and lactation is not recommended.
~~~~~~~~~~~~~~~~~~~~~~~~~~~~~~~~~~~~~~~~~~~~~~~~~~~~~~~~~~~~~~~~~~~~~~~~
Mycorrhizae forms a symbiotic relationship with the roots of 95% of the worlds plants and it's believed that plants were able to evolve onto land due to this symbiosis.

Colonization by mycorrhizae can provide multiple functions: increased nutrient uptake, drought tolerance, resistance to pathogens, increased vigor and yield.

It has been shown that the presence of Mycorrhizae can increase a plant's absorption of certain nutrients which it cannot uptake on its own.

In most gardens and agricultural settings the mycorrhizae is destroyed by killing, the overuse of chemical fertilizers, and fungicides. The mycorrhizae must be re-added to the soil in order to benefit the plant.

Mycorrhizae is naturally 100% organic.
Story of this Seed:
Dirt Goddess Super Seeds are fortified with Mycorrhizae, Beneficial Bacteria & Trichoderma for Superior Growth & Vigor. Organically!
Growing Tips:
Growing Purple Coneflowers

Purple coneflower plants grow best in poor or lean soil. Rich or heavily amended soil may result in lush foliage and poor flowering.

When planting purple coneflower, locate them in a full sun area. Full sun is defined as at least six hours of sun each day. In more southern areas, morning sun may facilitate the best performance, with late afternoon shade protecting the plants from burning.

Growing purple coneflower from seeds is easy enough for the beginning gardener, while long-time gardeners delight in the ease of how to care for coneflowers.

How to Care for Coneflowers

Once planted and established, learning how to care for coneflowers is easy. In seasons with normal rainfall, additional watering is not necessary. Purple coneflower plants are drought resistant and often thrive in dry summers.

Coneflower care may include limited fertilization, but this is often not needed. If flowers are small or poorly developed, try working in a small amount of well composted material in the soil around the plants.

When late summer blooms of the purple coneflower begin to look tired or ragged, cut the plant back by a third. This rejuvenates the plant and often produces a new display of beautiful blooms that last until frost.

Coneflower care is as simple as that and the plants will reward you with abundant flowering each and every year thereafter.


Questions 1 Total
Ask a Question About Purple Coneflower ~Mycorrhizae Fortified/Bulk Available~
Answer this question

Trying to order some of these Coneflower seed but page just refreshes instead of accepting command. Can I get a phone number for contact?

Policies
Shipping Policies
US Seed orders over $49 ship for free! Under $49 is a flat rate of $4. Garlic orders of 1 lb are a flat rate of $6. Over 1 lb is determined by weight and distance.
Return & Refund Policy
Our seeds have an average 90-95% germination rate within the first 2 years, with a 10% chance of success in year 3. If you find that your seeds don't live up to this, please let me know and I will send you a fresh packet. **Please note that bulk seed orders cannot be cancelled or returned unless the seeds are defective** Thank you.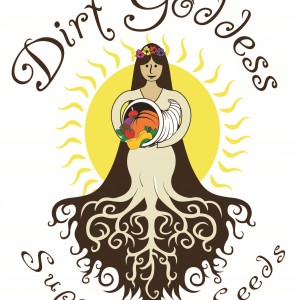 Kristen Brown
Oak Ridge, NJ, United States (Zone 6)
Established in 2012
1.00 acres in production
Other Listings from Dirt Goddess Super Seeds & Garlic Farm: