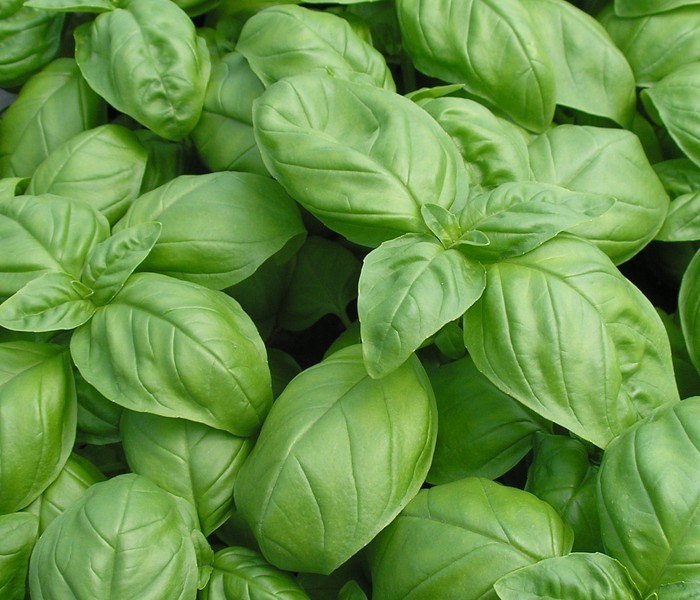 Tags: Heirloom Open Pollinated
Growing Practices: No Pesticides No Herbicides No Fungicides No Synthetic Fertilizers
Latin Name: Ocimum basilicum 'Genovese'
Days to Maturity: 68-70
Description:
Pesto lovers unanimously recommend Genovese as the best variety for pesto due to its distinctively sweet flavor. Plants are strong producers of dark-green, glossy leaves with a characteristic spoon shape. Average height is 10-12".

Basil is an annual native to India, Africa, and Asia. One of the most popular herbs, it is now cultivated in all temperate climates throughout the world. Of all the basils to grow, and there are about 150 varieties, Genovese basil is one of the best because it yields 7 to 8 cuttings and makes the best pesto.

In Italy, it is considered a sign of love. When a woman puts out a pot of basil, it means she is ready to receive her suitor. In France, it is called herbe royale. In India, it is sacred, dedicated to Vishnu and Krishna. In Victorian times, it was sent for best wishes in nosegays called tussie-mussies.

Harvest and Use: Though used mainly as a culinary, there are many other possible uses for basil. Try a cup of basil tea as an after dinner drink to aid digestion and expel gas. Basil tea is also good for stomach cramps and vomiting. An extract from the seeds has been shown to have an antibacterial effect. Combine it with wood betony and skullcap for nervous conditions or with elecampane and hyssop for coughs. Rub leaves on insect bites to reduce itching.

Basil essential oil has many aromatherapy uses. A drop on the sleeve can be inhaled for mental fatigue. Combine it with hyssop, bergamot or geranium oils for a stimulating massage oil for depression. Blend 6 to 8 oz of stimulating herbs (herbs such as thyme, sage, rosemary, mint, lemon verbena, lavender and/or marjoram) in a muslin bag to steep, for an invigorating herbal bath in cool water. Or, make a strong infusion of the herbs and add to the bath water. Researchers have found water slightly below 98 degrees is best for a stimulating bath.

Holy basil, opal basil, and lemon basil leaves may be added to potpourri. They are especially heavily scented. Opal basil with its iridescent purple foliage and mauve flowers adds a beautiful accent and fragrance to a bouquet. Brunettes can add shine to their hair with a basil/rosemary rinse. Blonds can do the same with a chamomile/basil rinse. The cosmetic industry uses basil in lotions, shampoos, perfumes, and soaps. It is also an ingredient in the liqueur Chartreuse.

~~~~~~~~~~~~~~~~~~~~~~~~~~~~~~~~~~~~~~~~~~~~~~~~~~~~~~
Dirt Goddess Super Seeds are fortified with Mycorrhizae, Beneficial Bacteria & Trichoderma for Superior Growth & Vigor. Organically!

Mycorrhizae forms a symbiotic relationship with the roots of 95% of the worlds plants and it's believed that plants were able to evolve onto land due to this symbiosis.

Colonization by mycorrhizae can provide multiple functions: increased nutrient uptake, drought tolerance, resistance to pathogens, increased vigor and yield.

It has been shown that the presence of Mycorrhizae can increase a plant's absorption of certain nutrients which it cannot uptake on its own.

In most gardens and agricultural settings the mycorrhizae is destroyed by killing, the overuse of chemical fertilizers, and fungicides. The mycorrhizae must be re-added to the soil in order to benefit the plant.

Mycorrhizae is naturally 100% organic.

~~~~~~~~~~~~~~~~~~~~~~~~~~~~~~~~~~~~~~~~~~~~~~~~~~
FREE SHIPPING with purchase of $49 or more!

*Please take note about bulk seed orders: Seed availability can be very volatile due to crop failures, weather conditions and other factors. Therefore, not every seed is constantly available in bulk sizes. Most bulk orders are shipped within 3-7 business days while some seeds can take up to 14 days to ship. If you are in a rush to get your bulk seeds you may want to contact us to verify availability. Individual seed packets are always available.
~~~~~~~~~~~~~~~~~~~~~~~~~~~~~~~~~~~~~~~~~~~~~~~~~
Story of this Seed:
Thanks and Happy Growing!
Growing Tips:
Cultivation: Basil represents the essence of the summer garden. It is not hard to grow from seed, which germinates readily at temperatures between 75-85 degrees. Contrary to most cultivation information on basil, it does not mind slightly acid soil or partial shade. As a matter of fact, it will do best in an area protected from the wind and scorching midday sun. It likes rich, well-drained soil and will grow best in soil enhanced with well-composted manure. It hates cold and should be planted out only when night temperatures reach 50 to 55 degrees. If you practice companion planting, plant basil near tomatoes and peppers to enhance their growth.

Pinch it back early and often to encourage bushiness. Do not let it flower unless you want to let it set seed as this destroys the flavor and shortens the lifespan of the plant. Many save this "end of the season" basil, the one that is always trying to go to seed, for pesto. I suggest you try making pesto from prime leaves at least once, to compare flavors.

Pests: I am always amazed that such a delicious smelling and tasting plant has few pests when grown outdoors: Japanese beetles and slugs, to be precise. Japanese beetles can be hand picked in the early morning when they are still sluggish from the cold. Beer traps, (shallow dishes of cheap beer placed close to the plants every 3') drown slugs that crawl into them. On the other hand, if you are growing inside, in a greenhouse, or on a windowsill, you must watch for aphids and whiteflies. Both can be dislodged with a jet spray of water or sprayed with horticultural soap.
Questions 0 Total
Ask a Question About Genovese Basil ~Mycorrhizae Fortified/Bulk Available~
Policies
Shipping Policies
US Seed orders over $49 ship for free! Under $49 is a flat rate of $4. Garlic orders of 1 lb are a flat rate of $6. Over 1 lb is determined by weight and distance.
Return & Refund Policy
Our seeds have an average 90-95% germination rate within the first 2 years, with a 10% chance of success in year 3. If you find that your seeds don't live up to this, please let me know and I will send you a fresh packet. **Please note that bulk seed orders cannot be cancelled or returned unless the seeds are defective** Thank you.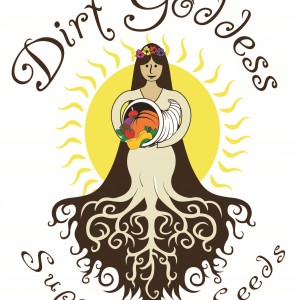 Kristen Brown
Oak Ridge, NJ, United States (Zone 6)
Established in 2012
1.00 acres in production
Other Listings from Dirt Goddess Super Seeds & Garlic Farm: