Tags: Heirloom Open Pollinated
Growing Practices: No Pesticides No Herbicides No Fungicides No Synthetic Fertilizers
Latin Name: Spinacia oleracea
Days to Maturity: 40-60
Description:
A long loved old-time favorite and one of the more outstanding open-pollinated varieties available. Leaves are savoyed, long and narrow with a glossy, dark green color. Has excellent heirloom flavor and tender leaves. It's a good yielding, dependable home garden variety that is fairly resistant to bolting. Spinach is delicious steamed, fresh in salads, and in soups and casseroles.

The highest-protein vegetable, leafy spinach greens boast an unmatched, synergistic complement of vitamins, minerals, flavonoids and carotenoids that when combined, protect eyesight, help prevent the buildup of cholesterol, and target cancer-causing free radicals.

~~~~~~~~~~~~~~~~~~~~~~~~~~~~~~~~~~~~~~~~~~~~~~~~~~~~~~~~~~
Dirt Goddess Super Seeds are fortified with Beneficial Bacteria & Trichoderma for Superior Growth & Vigor. Organically!

Your plants will greatly benefit from the action of certain Bacterias in the soil. Beneficial Aerobic Bacteria enhance plant growth & root formation, decompose organic material in the soil into plant nutrients and build soil structure and humus levels.

Bacteria fix nitrogen by converting nitrogen from the air into plant available form. It increases nutrient levels in the soil by converting insoluble nutrients (including phosphorus) for plant use and improves nutrient absorption by increasing cell membrane permeability of root hairs.

*******************************************************************************************
Trichoderma produce natural plant hormones which promote plant and root growth. Inoculated seeds resist pre-germination rot and improve the germination rate and period of seeds. You'll see improved disease resistance and a suppression of pathogenic fungi that cause seed rot, root rot, stem rot and fruit rot.

Take a look at www.DirtGoddessSeeds for videos and lots more info on this amazing fungus!
~~~~~~~~~~~~~~~~~~~~~~~~~~~~~~~~~~~~~~~~~~~~~~~~~
FREE SHIPPING with purchase of $49 or more!

*Please take note about bulk seed orders: Seed availability can be very volatile due to crop failures, weather conditions and other factors. Therefore, not every seed is constantly available in bulk sizes. Most bulk orders are shipped within 3-7 business days while some seeds can take up to 14 days to ship. If you are in a rush to get your bulk seeds you may want to contact us to verify availability. Individual seed packets are always available.
Story of this Seed:
Thanks and Happy Growing!
Growing Tips:
CULTURE: Spinach requires rich, fertile soil with plenty of organic matter. It is adversely sensitive to uneven moisture and acidic soils, and the optimum pH range is 6.5-7.5. Spinach is best grown during the cooler weather of spring and fall. Because nitrogen cycling is slower during cooler temperatures, use fertilizers that release nutrients quickly such as blood meal, fishmeal, bone meal, composted chicken manure, or feather meal. Nitrogen supplied during growth greatly increases the size and quality of your spinach. After soil has warmed and can be worked, sow seeds in rows at least 12 inches apart. Higher soil temperatures can cause erratic germination. The most favorable air temperatures for spinach are 60-65°F. Keep the bed uniformly moist for best results. For baby spinach, sow about 35-40 seeds per foot in a 2 inch wide furrow. Thin to 1 inch apart. Pay attention to seasonal differences between varieties. Summer selections are more resistant to bolting, but rising temperatures, longer days, and water or nutrient stress all contribute towards a plant's inclination to bolt. Later sowings may be done in July and August.

HARVEST: For baby greens, harvest when leaves are 3-4 inches. Individual leaves may be harvested anytime, or harvest the entire plant when it reaches maturity, just prior to bolting. Rinse in cold water and store at 32°F and 95% relative humidity.

INSECTS/PESTS: If your spinach leaves have a blotchy appearance, chances are you have spinach leaf miners. Destroy any affected leaves and keep the surrounding area weeded.

DISEASE: The key to prevention is planting in fertile soil and using a 3-year crop rotation.

SEED SPECS: Minimum germination standard: 65%. Usual seed life: 1 year.
Questions 0 Total
Ask a Question About Organic Bloomsdale Longstanding Spinach ~Fortified w/Beneficial Bacteria/Bulk Available~
Policies
Shipping Policies
US Seed orders over $49 ship for free! Under $49 is a flat rate of $4. Garlic orders of 1 lb are a flat rate of $6. Over 1 lb is determined by weight and distance.
Return & Refund Policy
Our seeds have an average 90-95% germination rate within the first 2 years, with a 10% chance of success in year 3. If you find that your seeds don't live up to this, please let me know and I will send you a fresh packet. **Please note that bulk seed orders cannot be cancelled or returned unless the seeds are defective** Thank you.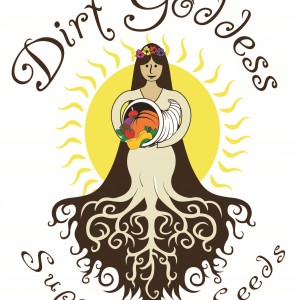 Kristen Brown
Oak Ridge, NJ, United States (Zone 6)
Established in 2012
1.00 acres in production
Other Listings from Dirt Goddess Super Seeds & Garlic Farm: