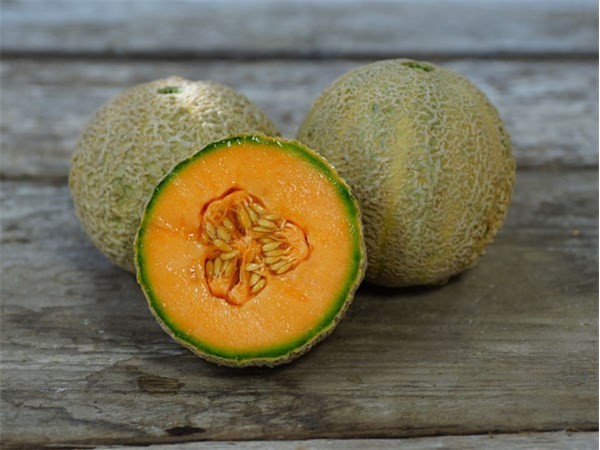 Tags: Heirloom Open Pollinated
Growing Practices: No Pesticides No Herbicides No Fungicides No Synthetic Fertilizers
Latin Name: Cucumis melo
Days to Maturity: 82
Description:
aka Honey Rock Cantaloupe- 1933 All-America Selections Winner!

This melon produces 5 to 7 unusually large melons on vigorous vines. Each melon typically weigh as many as 7 pounds each are up to six inches in diameter.

The flavorful sweet salmon colored flesh of Honey Rock Melon will certainly be a fantastic addition to your breakfast or afternoon snack. Plant produces incredibly sweet deep salmon flesh cantaloupes with a tough, coarsely netted skin. Perfect for backyard home gardens. Excellent source of vitamin C.

Honey Rock melon is fusarium wilt resistant.
************************************************************************
Dirt Goddess Super Seeds are fortified with Mycorrhizae, Beneficial Bacteria & Trichoderma for Superior Growth & Vigor. Organically!

Mycorrhizae forms a symbiotic relationship with the roots of 95% of the worlds plants and it's believed that plants were able to evolve onto land due to this symbiosis.

Colonization by mycorrhizae can provide multiple functions: increased nutrient uptake, drought tolerance, resistance to pathogens, increased vigor and yield.

It has been shown that the presence of Mycorrhizae can increase a plant's absorption of certain nutrients which it cannot uptake on its own.

In most gardens and agricultural settings the mycorrhizae is destroyed by tilling, the overuse of chemical fertilizers, and fungicides. The mycorrhizae must be re-added to the soil in order to benefit the plant.

Mycorrhizae is naturally 100% organic.

Take a look at www.DirtGoddessSeeds for videos and lots more info on this amazing fungus!
~~~~~~~~~~~~~~~~~~~~~~~~~~~~~~~~~~~~~~~~~~~~~~~~~
FREE SHIPPING with purchase of $49 or more!

*Please take note about bulk seed orders: Seed availability can be very volatile due to crop failures, weather conditions and other factors. Therefore, not every seed is constantly available in bulk sizes. Most bulk orders are shipped within 3-7 business days while some seeds can take up to 14 days to ship. If you are in a rush to get your bulk seeds you may want to contact us to verify availability. Individual seed packets are always available.
Story of this Seed:
Thanks and Happy Growing!
Growing Tips:
Can be direct sown in warmer climates after soil temperatures reach 70, plant 3-4 seeds 1/2" deep in hills 3-4' apart on rows 5-6' apart. Once established, thin to two strongest plants. For cooler climates we prefer to start in pots in the greenhouse and transplant later when night time temperatures stay above 55 degrees. Start seedlings 3 weeks before last frost. Once seedlings are 4" tall and soil temperatures are 70, plant in rich loose soil.

Keep well watered until fruits are tennis ball sized and then water only if absolutely needed. (Some organic farmers never water them and still grow amazing melons, but a great deal depends on your soil.)

Remember, you must have a healthy population of pollinators like bees to get a good fruit set.

*Heirloom seeds are hardy but always take care with your garden seeds to give them the appropriate amount of moisture - not letting the vegetable seeds dry out prematurely or overwatering and possibly having them rot.


1932 Burpee's Seed Catalog says about Honey Rock Melon...
"Smooth, round fruits of medium size, with a heavy, coarse netting over a slate-colored ground. Tasty, honey-sweet salmon flesh. Solid, thick meat of firm texture but free from fiber. A distinct variety."

1933 Shumways Seed Catalog says about Honey Rock Melon...
"A distinctive new type, fast gaining in popularity. The fruits are almost perfectly round, non-ribbed, and covered with a very heavy netting. The meat is of super quality, very thick, firm textured, deep orange in color and with a unique honey-sweet flavor. A tough-rinded type excellent for shipping. Very productive, yielding 5 to 7 fruits to the vine. Destined to be the leading cantaloupe in all markets."
Questions 0 Total
Ask a Question About Honey Rock Melon ~Mycorrhizae Fortified/Bulk Available~
Policies
Shipping Policies
US Seed orders over $49 ship for free! Under $49 is a flat rate of $4. Garlic orders of 1 lb are a flat rate of $6. Over 1 lb is determined by weight and distance.
Return & Refund Policy
Our seeds have an average 90-95% germination rate within the first 2 years, with a 10% chance of success in year 3. If you find that your seeds don't live up to this, please let me know and I will send you a fresh packet. **Please note that bulk seed orders cannot be cancelled or returned unless the seeds are defective** Thank you.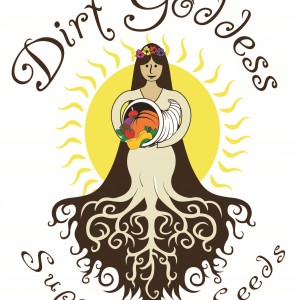 Kristen Brown
Oak Ridge, NJ, United States (Zone 6)
Established in 2012
1.00 acres in production
Other Listings from Dirt Goddess Super Seeds & Garlic Farm: