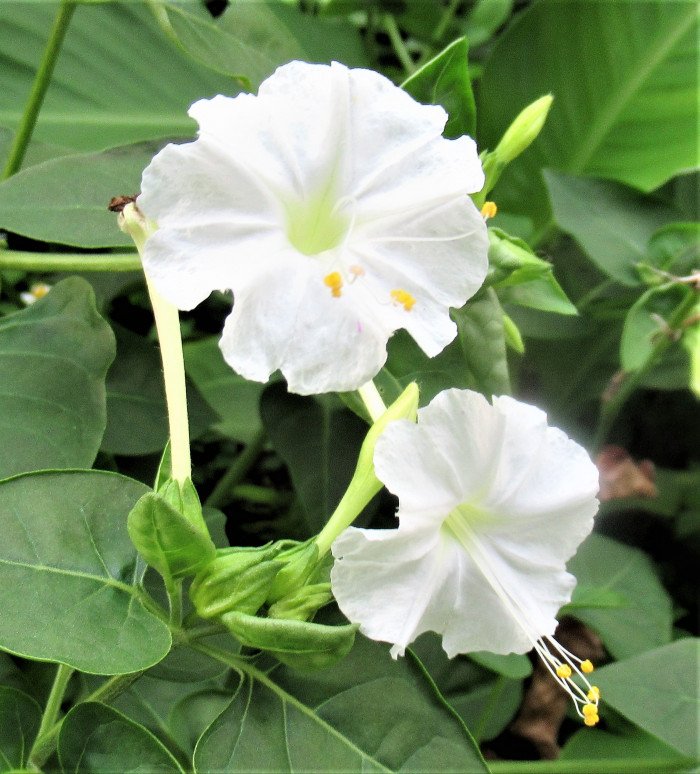 Tags: Heirloom Open Pollinated
Growing Practices: No Pesticides No Herbicides No Fungicides No Synthetic Fertilizers
Latin Name: Mirabilis jalapa
Days to Maturity: VARIED
Description:
WE RECYCLE PACKING

THE FOUR O'CLOCK PLANT IS AN OLD-FASHIONED PLANT USED AS AN ORNAMENTAL.
THIS TENDER PERENNIAL IS HARDY IN ZONES 7-10 AND THEY CAN BE GROWN AS AN ANNUAL IN COLDER AREAS.

THIS VARIETY HAS SNOW WHITE FLOWERS SUPPORTED BY SOFT PRETTY GREEN FOLIAGE.

THE PRETTY FLOWERS GET THEIR NAME BECAUSE THE BLOSSOMS OPEN LATE IN THE DAY.

VERY FRAGRANT BLOSSOMS ARE PERFECT TO PLANT AROUND A PATIO OR PORCH AREA.

EASY TO GROW. IN OUR ZONE 9B THE PLANTS GO DORMANT, DYING BACK TO THE GROUND IN THE WINTER THEY LEAF OUT IN EARLY SPRING.

THE FLOWERS LAST A DAY BUT MATURE PLANTS PRODUCE COPIOUS AMOUNTS OF BLOOMS.

THE PLANT WILL GROW IN FULL OR PARTIAL SUN.

THE PLANTS CAN REACH SEVERAL FEET TALL AND AROUND.

THEY MAKE GREAT FILLER PLANTS IN CONTAINERS AND THEY GROW EQUALLY WELL IN THE GROUND.

EACH YEAR THE ROOT GROWS LARGER, AS DOES THE PLANT.

SHIPS TO CONTIGUOUS USA (LOWER 48 STATES ) ONLY



Story of this Seed:
WE HAVE BEEN GROWING FOUR O'CLOCKS FOR SO LONG I DO NOT REMEMBER WHERE THE ORIGINAL PLANTS CAME FROM, BUT THEY PROBABLY WERE FROM MY GRANDMOTHER. I REMEMBER MY GRANDMOTHER AND MOTHER HAD LARGE MASS PLANTINGS THROUGHOUT THEIR GARDENS.
Growing Tips:
THESE ARE VERY HARD SEEDS. SOAK THE SEEDS IN ROOM TEMPERATURE WATER FOR SEVERAL HOURS UP TO OVERNIGHT. A LITTLE SCARIFICATION WILL ALSO HELP. PLACE ONE SEED PER CELL CONTAINING PREMOISTENED POTTING MEDIUM. VERY LIGHTLY COVER WITH ADDITIONAL SOIL, LIGHTLY PRESS TO ENSURE GOOD SEED TO SOIL CONTACT BUT DO NOT BURY DEEP. WATER WELL AND PLACE IN A WARM LOCATION.

ONCE THE SEEDLINGS REACH SEVERAL INCHES HIGH WITH SEVERAL SETS OF LEAVES, PLANT IN DESIRED LOCATION. MORNING SUN WITH AFTERNOON SHADE IS WHAT OUR PLANTS LIKE.

SEEDS CAN ALSO BE DIRECT SOWED INTO THE GROUND.

Buy
Questions 0 Total
Ask a Question About WHITE FOUR O'CLOCK PLANT, FRAGRANT BLOSSOMS
Policies
Shipping Policies
We strive to ship seeds the day after we receive the order, excluding weekends. We use USPS. We ship only to the contiguous US, the lower 48 states, due to high postage rates and custom regulations - thank you for understanding. Seedlings/cuttings/plants will be shipped the first of the week, Monday, Tuesday and sometimes on a Wednesday, depending upon the destination. This way the seedlings do not sit in a post office over a weekend. We do not offer heat packs. All of our items are grown in planting zone 9B.
Return & Refund Policy
We have no refund policy. All seeds have been tested for germinaton. All seedlings,cuttingswill be freshly harvested and are in good condition when shipped.
Other Policies
We thank everyone for the opportunity to share our seeds and seedlings.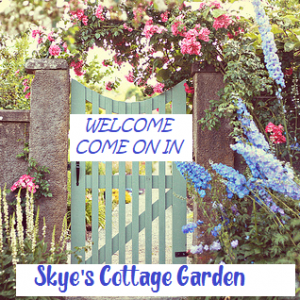 Eliseann Skye Dann
Ocoee, FL, United States (Zone 9b)
Established in 2009
0.50 acres in production
Other Listings from Skye's Cottage Garden: