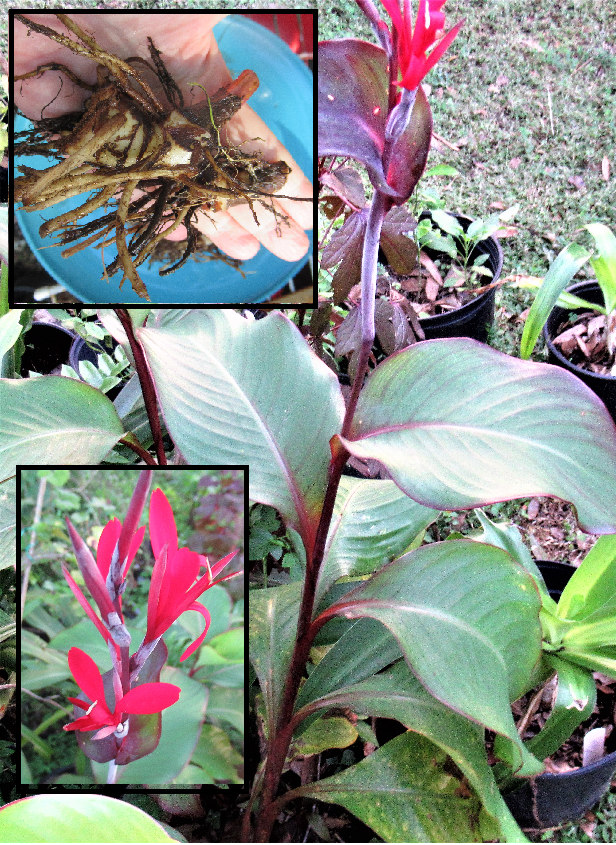 Tags: Heirloom Open Pollinated
Growing Practices: No Pesticides No Herbicides No Fungicides No Synthetic Fertilizers
Latin Name: ZINGIBERALES
Days to Maturity: VARIED
Description:
RHIZOME FOR THE FIRE CRACKER CANNA LILY IN THE ZINGIBERALES FAMILY

SEE PHOTOS WITH HAND FOR APPROX SIZE. CLUSTER WILL VARY IN SIZE AND THE NUMBER OF EYES. CLUSTER WILL BE HEALTHY AND HARDY. THERE IS NO REFUND FOR THIS ITEM. THEY WILL BE HEALTHY WHEN SHIPPED.

SHIPS TO CONTIGUOUS USA ONLY, EXCLUDING CA AND AZ. . SHIPS BARE ROOT, NO POT, NO SOIL. RHIZOMES DO NOT REQUIRE MOSIT WRAPPING. SHIPS USPS FIRST CLASS. WE RECYCLE BOXES AND OTHER PACKING MATERIAL

BEAUTIFUL BRIGHT RED CANNA LILY SURE TO BRIGHTEN ANY GARDEN.

FIRE CRACKER CANNA IS BEAUTIFUL EVEN WHEN NOT IN BLOOM. THE LARGE LEAVES ARE AN EMERALD GREEN WITH A RED MARGIN AND STEMS.

CANNAS ARE NATIVE TO NORTH AMERICA AND IT IS NOT ALWAYS KNOWN THAT THE PLANT HAS EDIBLE PROPERTIES.

GREAT FOR THE POLLINATORS
EASY TO GROW AND MAINTAIN
PLANTS CAN REACH 4-5 FEET TALL
LUSH TROPICAL FOLIAGE WHEN NOT IN BLOOM.

LIKES SUN AND WATER

GROW IN THE GROUND OR IN CONTAINERS, BEAUTIFUL PLANTED IN MASS OR PLANT SINGULARLY AMONGST OTHER PLANTS FOR A SPOT OF COLOR.

IN COLDER LOCATIONS, THE RHIZOMES CAN BE DUG UP AND OVERWINTERED.

THESE PLANTS WERE GROWN IN ZONE 9B. PLEASE RESEARCH TO SEE HOW THESE PLANTS WILL GROW IN YOUR AREA.

THANK YOU AND HAPPY GARDENING.
Story of this Seed:
CANNA PLANTS ARE ONE OF THE OLD FAVORITES IN WARM WEATHER LOCATIONS. I DO NOT REMEMBER A TIME WHEN OUR FAMILY DID NOT HAVE CANNAS.

THEY ARE A GREAT PASS ME DOWN PLANT.
Growing Tips:
PLANT THE RHIZOME IN CONTAINERS OR IN THE GROUND. MAKE SURE SOIL IS WELL DRAINING SO THE RHIZOME DOES NOT SIT IN WATER AS IT MAY GET ROOT ROT.

THE PLANT LIKES SOME SUN WITH A LITTLE AFTERNOON PROTECTION FROM THE REALLY HOT SUN

SPACE PLANTS OUT TO ALLOW FOR GOOD AIR FLOW.

AND ENJOY.
Buy
Questions 0 Total
Ask a Question About CANNA LILY - FIRECRACKER CANNA LILY RHIZOME
Policies
Shipping Policies
We strive to ship seeds the day after we receive the order, excluding weekends. We use USPS. We ship only to the contiguous US, the lower 48 states, due to high postage rates and custom regulations - thank you for understanding. Seedlings/cuttings/plants will be shipped the first of the week, Monday, Tuesday and sometimes on a Wednesday, depending upon the destination. This way the seedlings do not sit in a post office over a weekend. We do not offer heat packs. All of our items are grown in planting zone 9B.
Return & Refund Policy
We have no refund policy. All seeds have been tested for germinaton. All seedlings,cuttingswill be freshly harvested and are in good condition when shipped.
Other Policies
We thank everyone for the opportunity to share our seeds and seedlings.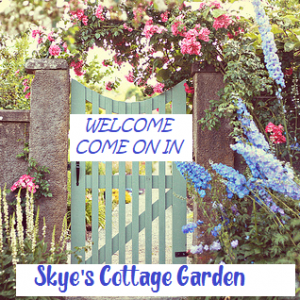 Eliseann Skye Dann
Ocoee, FL, United States (Zone 9b)
Established in 2009
0.50 acres in production
Other Listings from Skye's Cottage Garden: