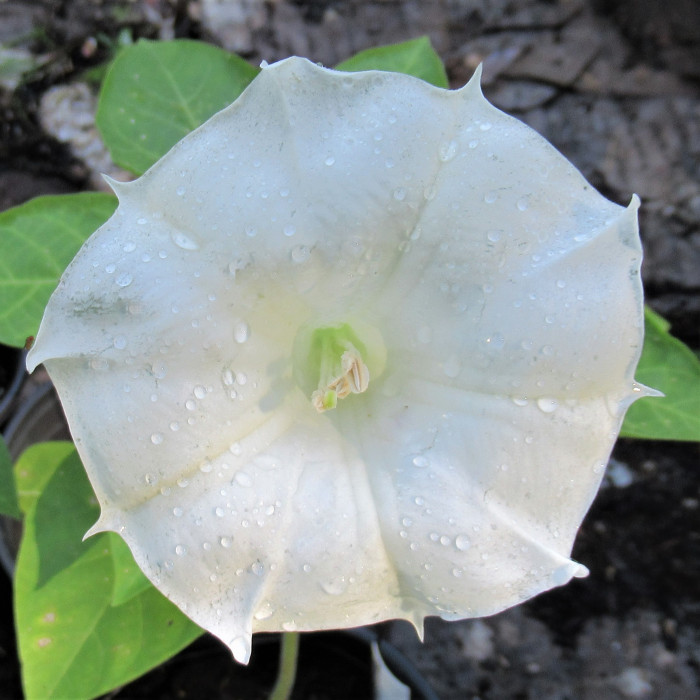 Tags: Heirloom Open Pollinated
Growing Practices: No Pesticides No Herbicides No Fungicides No Synthetic Fertilizers
Latin Name: DATURA
Days to Maturity: 45
Description:
WE RECYCLE PACKING/PACKAGNG MATERIALS,

FREE SHIPPING ON ORDERS OVER $35.00

DATURA - SINGLE WHITE BLOSSOM

Clade: Eudicots Clade: Asterids
Order: Solanales Family: Solanaceae
Subfamily: Solanoideae
Tribe: Datureae
Genus: Datura
L.
Type species
Datura INOXIA

PRONOUNCED DUH TUR AH

COMMON NAMES: HORNAPPLES, JIMSONWEEDS, DEVIL'S TRUMPET, MOON FLOWER, BELL'S BELLS.

(DO NOT CONFUSE WITH ANGEL TRUMPETS - DIFFERENT GENUS, BRUGMANSIA )

HARDINESS ZONE 6 - 10
HERBACEOUS LEAFY ANNUAL OR SHORT LIVED PERENNIAL.
TRUMPET SHAPED BLOOMS THAT ARE UPRIGHT AND NOT PENDULOUS LIKE ANGEL TRUMPETS.
GREAT FOR MOON GARDENS
BUSH LIKE VEGETATION
FLOWERS ARE ERECT OR SPREADING.
HOST PLANT FOR SOME BUTTERFLIES
SEED POD IS ROUND BALL WITH SPIKES
LIKES SUN, WELL DRAINING SOIL AND DO NOT LET IT DRY OUT.

SHIPS TO LOWER 48 STATES ONLY

Story of this Seed:
DATURA PRODUCES BEAUTIFUL BLOSSOMS. OVER 25 YEARS AGO I WAS GIVEN ONE SMALL PLANT THAT HAD ONE BLOSSOM ON IT. I GREW IT OUT, HARVESTED THE SEEDS AND I HAVE BEEN GROWING DATURA EVER SINCE.
Growing Tips:
DATURA IS EASY TO GROW. SOAK THE SEEDS FOR A FEW HOURS IN ROOM TEMPERATURE WATER. PLACE ONE OR TWO SEEDS IN POTS FILLED WITH SOFT MOISTENED SOIL. PRESS LIGHTLY TO ENSURE GOOD SEED TO SOIL CONTACT. LIGHTLY COVER WITH SOIL AND MIST WELL. PLACE IN A WARM LOCATION AND DO NOT LET THE SOIL DRY OUT.
WHEN SEEDLINGS ARE SEVERAL INCHES TALL AND HAVE THEIR SECOND SET OF LEAVES, THE SEEDS CAN BE TRANSPLANTED INTO LARGER CONTAINERS OR INTO FINAL PLANTING LOCATION
Buy
Questions 0 Total
Ask a Question About DATURA - SINGLE WHITE DATURA INOXIA AKA MOON FLOWER
Policies
Shipping Policies
We strive to ship seeds the day after we receive the order, excluding weekends. We use USPS. We ship only to the contiguous US, the lower 48 states, due to high postage rates and custom regulations - thank you for understanding. Seedlings/cuttings/plants will be shipped the first of the week, Monday, Tuesday and sometimes on a Wednesday, depending upon the destination. This way the seedlings do not sit in a post office over a weekend. We do not offer heat packs. All of our items are grown in planting zone 9B.
Return & Refund Policy
We have no refund policy. All seeds have been tested for germinaton. All seedlings,cuttingswill be freshly harvested and are in good condition when shipped.
Other Policies
We thank everyone for the opportunity to share our seeds and seedlings.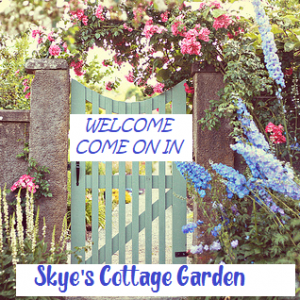 Eliseann Skye Dann
Ocoee, FL, United States (Zone 9b)
Established in 2009
0.50 acres in production
Other Listings from Skye's Cottage Garden: