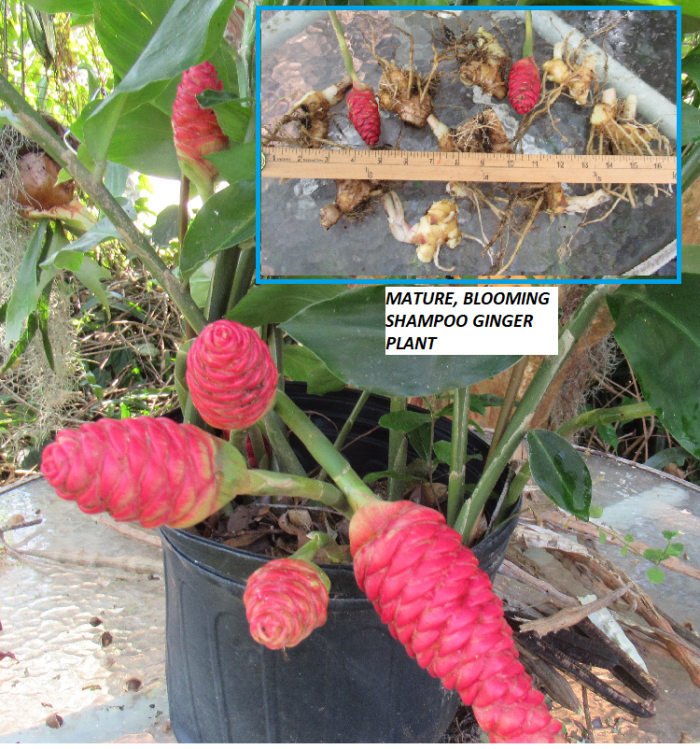 Tags: Heirloom Open Pollinated
Growing Practices: No Pesticides No Herbicides No Fungicides No Synthetic Fertilizers
Latin Name: Z. zerumbet
Description:

RHIZOME FOR THE SHAMPOO GINGER.
PLEASE NOTE THAT GINGER PLANTS GROW ON RHIZOMES, NOT BULBS. THERE IS NOT A SELECTION FOR RHIZOMES ON THE TYPE CLASSIFICATION SO I USE EITHER BULB/ROOT CUTTINGS.

NO HEAT PACKS AVAILABLE. WE RECYCLE PACKING/PACKAGING MATERIAL. RHIZOME WILL SHIP THE FIRST OF THE WEEK VIA USPS TO AVOID SITTING IN A POST OFFICE OVER THE WEEKEND.

Order: Zingiberales
Family: Zingiberaceae
Genus: Zingiber (zing-ee-ber)
Species: Z. zerumbet (ZER-um-bet)

COMMON NAMES: AWAPUHI, BITTER GINGER, SHAMPOO GINGER, PINECONE GINGER. BEEHIVE GINGER

LISTING IS FOR A RHIZOME OF THE SHAMPOO GINGER. THE MATURE PLANT IN THE PHOTO IS FOR REFERENCE AND IS NOT FOR SALE.


HEALTHY, ORGANICALLY GROWN RHIZOMES FOR THE SHAMPOO GINGER.

THE RHIZOMES VARY IN SHAPE AND SIZE A LITTLE, BUT ALL PIECES OF THE RHIZOMES HAVE SOME ROOTS. THE INSERT IN THE PHOTO WITH THE RULER WILL GIVE AN IDEA OF THE SIZE OF THE RHIZOME.

THIS IS A TRUE GINGER. IT DOES HAVE SOME EDIBLE QUALITIES, BUT IT IS NOT THE Zingiber officinale FOUND IN THE GROCERY STORE. THIS GINGER WILL PRODUCE A LIQUID (IF PLANT IS HAPPY) THAT SOME FOLKS USE ON THEIR HAIR AND SKIN - RESEARCH THE BENEFITS.

IF YOU ARE NOT FAMILAR WITH THIS GINGER, TAKE THE TIME TO RESEARCH THE PLANT.

THANK YOU
Story of this Seed:
THIS IS A PASS ME DOWN PLANT ALL THROUGH MY FAMILY. IT IS SO EASY TO GROW AND IS BEAUTIFUL. EVERY YEAR WHEN THE GINGER BLOOMS AND I USE THE LIQUID AS A HAIR CONDITIONER.
Growing Tips:
IN WARM CLIMATES THE RHIZOME CAN EITHER REMAIN IN THE GROUND DURING WINTER OR IT CAN BE DUG UP AND STORED.
IN COLDER CLIMATES THE RHIZOME SHOULD BE DUG UP AND STORED IN A COOL DRY LOCATION DURING THE WINTER MONTHS.
PLANT THE RHIZOME OUT EITHER INTO THE GROUND OR IN A CONTAINER AFTER YOUR LAST FROST DATE
PLANT WILL LEAF OUT AND PRODUCE CONES IN LATE SUMMER, EARLY FALL.
Buy
Questions 2 Total
Ask a Question About GINGER - SHAMPOO GINGER RHIZOME, AKA AWAPUHI, , PINE CONE, BEEHIVE
Answer this question

Can you grow it in containers?

Answers 1

Yes, the plant grows very well in a large container. I would suggest at least at least a two gallon size to start with and make sure the drainage is good.

Answer this question

Does this plant grow in all zones

Answers 1

Gingers are typically considered tropical/subtropical plants. The shampoo ginger can grow outside up to zone 8 as long as it has some winter protection. In colder zones ginger can be grown in containers and moved indoors to over winter. Some folks grow the ginger and then dig the rhizome up and overwinter the rhizome. Some people grow them as houseplants. So there are options. But there is no guarantee a plant grown in areas with only a few months of warmth or plants grown indoors will reliably bloom. Thank you and happy gardening.
Policies
Shipping Policies
We strive to ship seeds the day after we receive the order, excluding weekends. We use USPS. We ship only to the contiguous US, the lower 48 states, due to high postage rates and custom regulations - thank you for understanding. Seedlings/cuttings/plants will be shipped the first of the week, Monday, Tuesday and sometimes on a Wednesday, depending upon the destination. This way the seedlings do not sit in a post office over a weekend. We do not offer heat packs. All of our items are grown in planting zone 9B.
Return & Refund Policy
We have no refund policy. All seeds have been tested for germinaton. All seedlings,cuttingswill be freshly harvested and are in good condition when shipped.
Other Policies
We thank everyone for the opportunity to share our seeds and seedlings.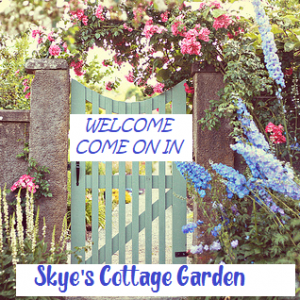 Eliseann Skye Dann
Ocoee, FL, United States (Zone 9b)
Established in 2009
0.50 acres in production
Other Listings from Skye's Cottage Garden: